Mobile Portable Dust Collector Welding Dust Removal Equipment Fume Extractor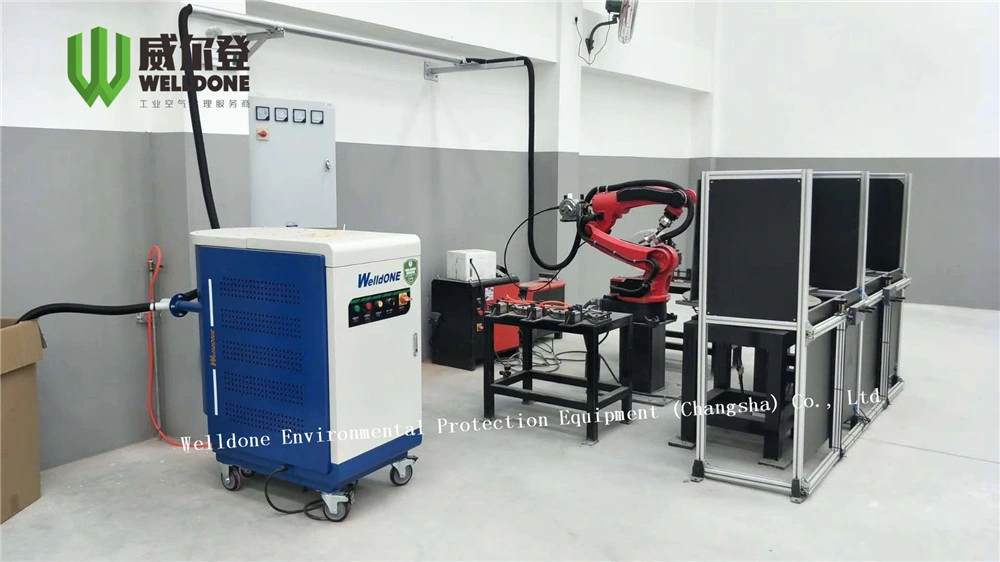 Part 1: Products Application
(1)Welding (gun) smoke discharging :
Welldone high vacuum dust collector can be used in welding gun smoke discharging, arc welding, CO2 protection welding, MAG protection welding, special welding and other places of cutting and grinding, collecting clean smoke and dust. The air after purification can be directly in the room.
Many of the welding guns are equipped with integrated pumping units, that means the welding guns can be connect to the Welldone's high vacuum dust collector at any time. In low air volume, it can be removed directly from the welding gun before the harmful welding smoke is distributed to the environment.

(2)Polishing dust discharging:
Welldone's polishing kits can be easily installed in the most of the handle machine, which can be used in discharge the polishing dust. we catch the dust before it distributing in the air, inhaling by the workers or scattering to the ground by connecting the high vacuum duster to the polishing kit.
The high negative pressure dust removal system is adopted for the grinding of composite materials and in the cutting process. The system is widely recognized in the industry as an integrated dust solution with excellent performance and stability The piping and dust collection kits are assembled with the tools used on site , The suction mouth is near the dust source, dust can be captured directly from the working point (tool) in the process of grinding, this approach is also the most advanced, it is the most efficient way of the dust remover. Capture from the source, avoid dust from the outside of the workshop to capture, such dusting investment will greatly increase.

(3)Clean the floor and machine:
Welldone's system can be connected to a cleaning device ,that mean Welldone's system can be used in cleaning the floor and machine. Thus it can create a better working environment and it can also prevent the machine from causing unforeseen downtime due to environmental pollution..

(4)Material handling:
Welldone can also provide mobile and fixed solutions for delivering large amounts of material
Part 2: mobile dust collector Main chracter
1.Filter cartridge with PTFE(polytetrafluoroethylene) layer, high efficiency.
2.Low noise, stable performance, convenient operation longer lifetime.
3.Module design-pump, motor, filter cartridge separated, big air volume. Low noise(less than 75db), easy maintenance and lower cost.
4.The light color design makes the vision more lively.
5.Application-welding gun smoke discharging, polishing dust discharging, clean the floor and machine, material transferring and so on.
6. Air volume 210~700m3/h for choose; 3 years warranty on pump and motor/1years warranty on filter......
Part 3: Techical parameter of Mobile Portable Dust Collector Welding Dust Removal Equipment Fume Extractor
| | |
| --- | --- |
| Mode | WHV-210 |
| Mode of dedusting | Automatic dedusting |
| Voltage/Phase/frequency | 380V/3PH/50HZ |
| Air volume | 210m³/h |
| Engine power | 1.6kw |
| Max. negative pressure | 20000Pa |
| Filter efficiency | 99.99% |
| Filter | 1-Φ250*560mm |
| dB | <70dB(A) |
| Compressed air requirement | 0.4-0.5MPa |
| Outside Demension | 630*1125*1270mm |
| Location | Indoor |
| Option | Stop or start by yours' equipment |
| Option | Frequency conversion |
| Option | Anti-explosion |
Part 4: Application cases pictures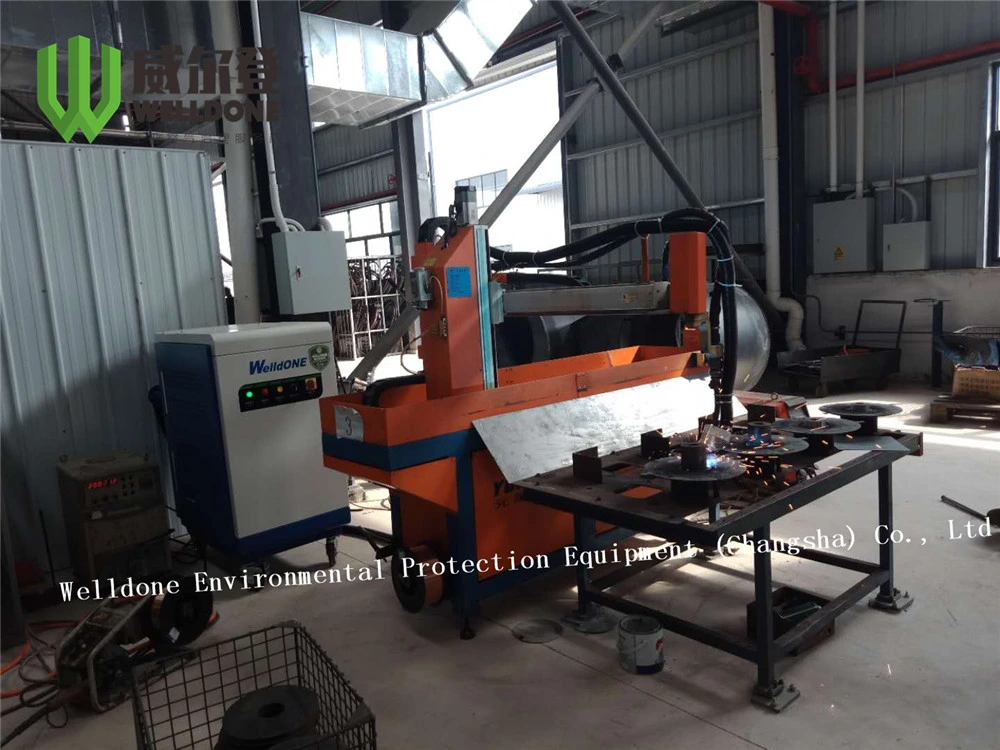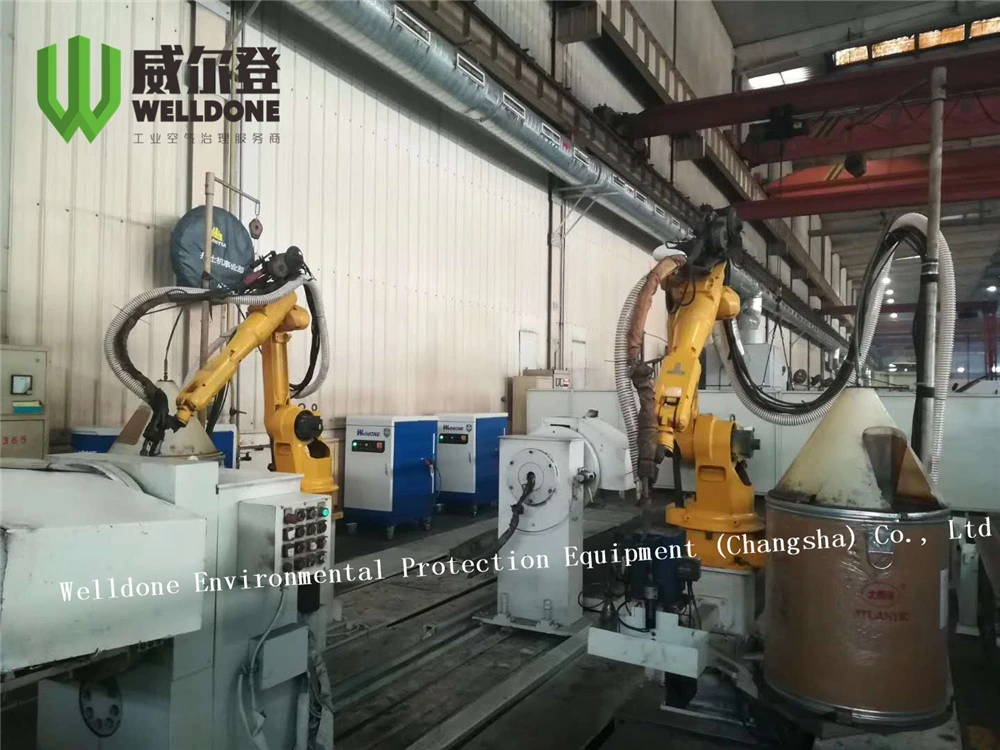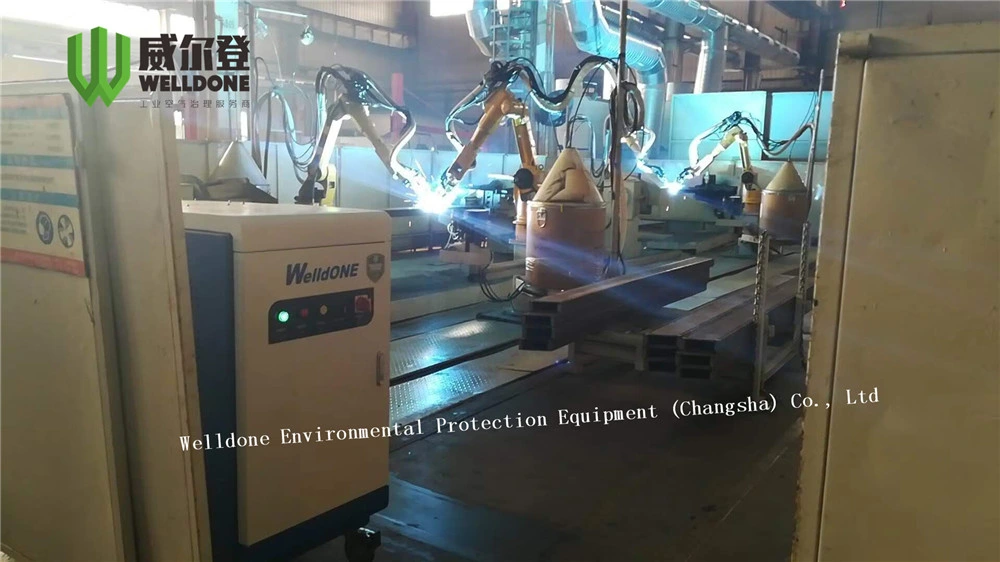 Part 5: Why choose Welldone?


1.Patent design, CE, ISO9001, ISO14001, and OHSAS18001 certificate approved.
2.Fine details design, like 2-3mm thickness metal, 80mm noise damping cutton...
3.Advanced patent design filter, 0.02-99.9% efficiency, 8000h lifetime. PTFE coated, Import from Japan. easy pass government inspection
4.Famous machine components.
5.3 years warranty on fan and motor, 1 years warranty on filter
6. Manufacture directly sales, lower price, better services and easy maintance.
.......

Part 6: Company introduction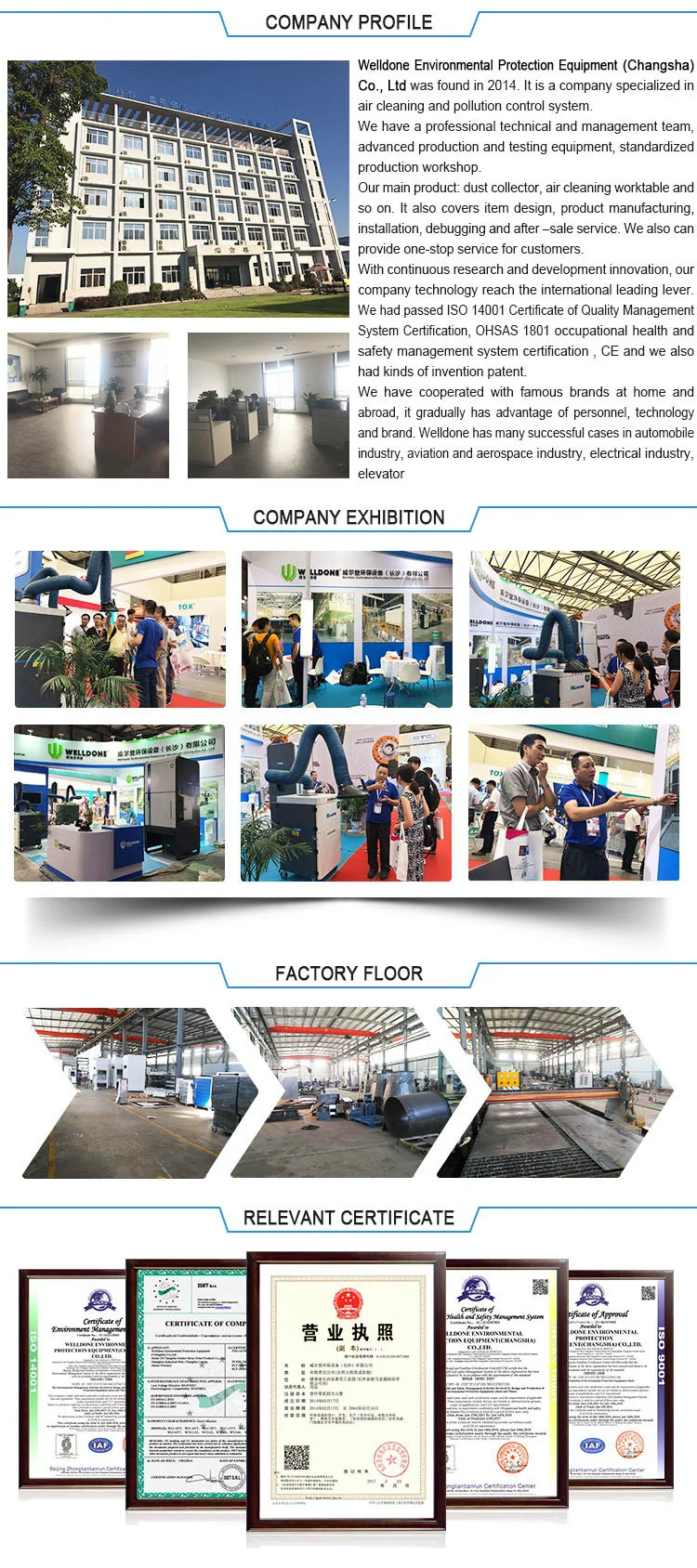 Quickly contact us if you are interest
ed in
our products:
Tel
: +86 0731-86398162
Welldone Environmental Protection Equipment (Changsha) Co., Ltd
Website:
welldoneexport.en.made-in-china.com