Introduction:
Induction Melting Furnace is the device converting three phase power current into single phase intermediate frequency current and enabling metal to produce eddy current loss through electromagnetic field induction to achieve heating and melting and is applicable to melting, heating or holding of steel, copper, aluminum, zinc, tin, nickel silver and other ferrous or nonferrous metal and alloy material, as well as heating treatment prior to forging, sintering and tube-bending forming in casting and melting industries.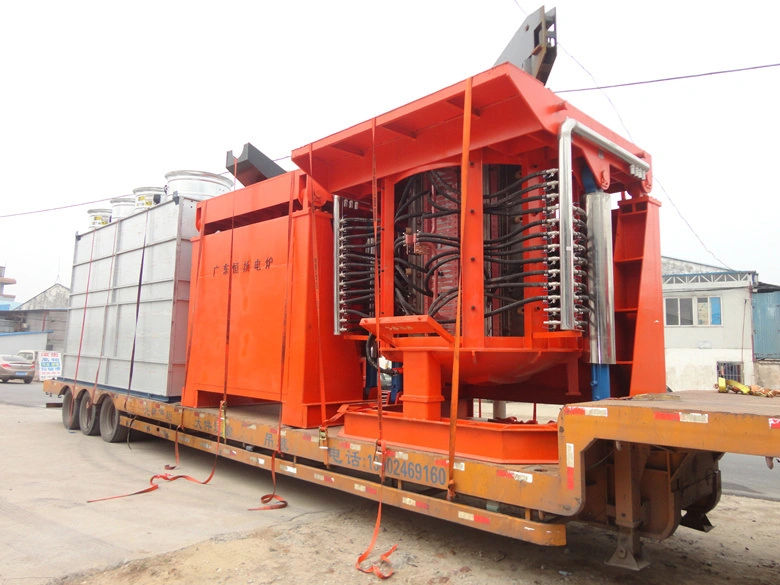 Capacity

Rated power

Output Frequency

Cast steel melting (1650

ºC

)

Cast copper melting(1350

ºC

)

(t/h)

(Kw)

KHZ

Melting

Power consumption

Melting

Power consumption

Rate(t/h)

(kw.h/t)

Rate(t/h)

(kw.h/t)

0.1

100

2.5

0.1

800

0.1

490

0.15

160

2.5

0.15

750

0.15

480

0.35

250

2.5

0.35

700

0.35

460

0.5

350

1

0.5

650

0.5

450

0.75

500

1

0.75

630

0.75

440

1

750

1

1

600

1

430

1.5

1000

1

1.5

580

1.5

430

2

1500

1

2

560

2

430

3

2000

1

3

530

3

430

5

2500

1

5

520

5

430

8

5000

0.5

8

520

8

430

10

5000

0.5

10

520

10

430

15

8000

0.5

15

520

15

430

20

10000

0.5

20

520

20

430

30

15000

0.5

30

520

30

430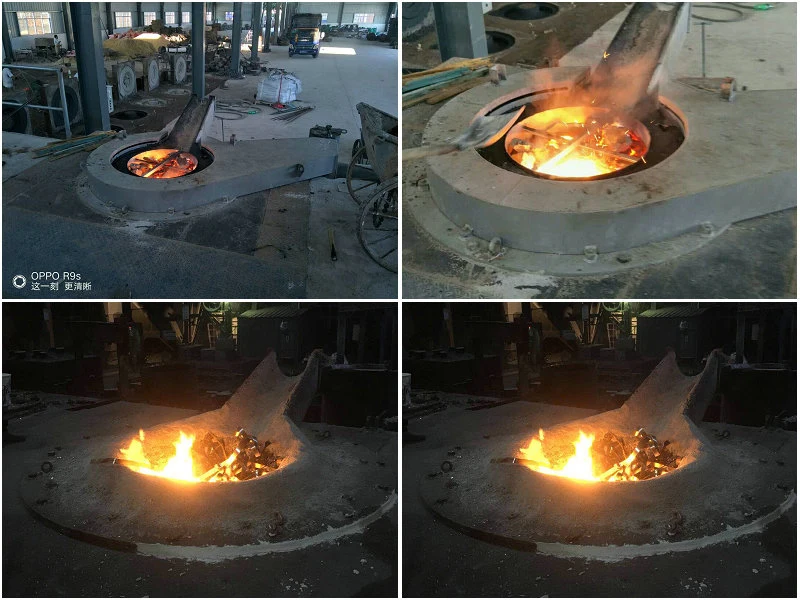 Component
The steel frame furnace of Hengyang electric furnace is the equipment with high safely,strong ,high efficiency,energy saving and convenient maintenance in the induction melting system.The basic design is :the two cylinder with thick wall seamless rectangular steel tube welding into one structure ,the furnace body maximum Angle 95degree .With vacuum cover (heat preservation cover ) ,the upper end o f the induction furnace can be disassembled to facilitate the replacement of the coil.The unique shock absorb-er and solid magnetic yoke structure ,which combines the advantage of steel cylinder shell and steel tank furnace ,is easy for daily maintain ,and the overall structure is simple and secure
2.Induction coil
Assembled by a solid,durable,highly conductive oxygen-free copper tube .The water -cooled coil and the effective coil are integrally formed by a copper tube segmentation .The two adjacent copper tubes of the induction coil are strictly insulated and adopt advanced segmentation technology .After the surface of the coil is sandblasted ,it is used as an insulating coating layer ,and then it is poured into an integral body with a coil of cement slurry to prevent the coil from damaging the device by discharging iron yoke through iron chips or dust.The overall structure is strong and there is no deforming problem.
3.Yoke
The induction coil is surrounded by a solid oriented yoke ,this design eliminates the induction heating of the furnace body and the metal material outside the furnace .

The yoke is evenly stressed by the rail bolts and provides maximum holding force to the coil to ensure a strong working life of the lining .

Yoke each cooling water circuit has flow ,temperature protection ,and temperature display .

The yoke covers more than 70%of the area and guides and concentrates the induced electromagnetic field into the furnace .Because the magnetic flux leakages is small,the electromagnetic and the maximum electrical efficiency is obtained.;
Safety Protection:
• Main circuit short circuit protection
• Main circuit phase loss protection
• Main circuit phase fault protection
• SCR over-current protection
• SCR overvoltage protection
• Cooling water temperature protection
• Low water pressure protection
• Furnace leakage protection
• Intermediate frequency power failure protection
• Intermediate frequency electric furnace fault protection rate and increase the life obviously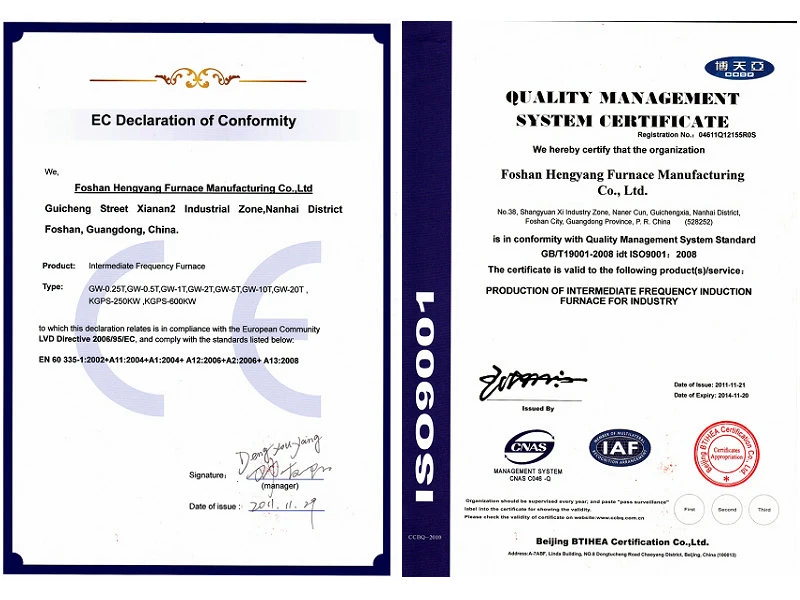 After-sales service:
a. Cooperate with guidance to check the buyer installation work;
b. Internal and electrical wiring connections between equipment;
c. Site commissioning;, according to the actual equipment adjust to the best state;
d. Direct buyer operating personnel to the correct use of operating equipment;
e. Guidance on site security considerations;
f. To guide the buyer maintenance personnel troubleshooting methods;
g. Provide equipment specification;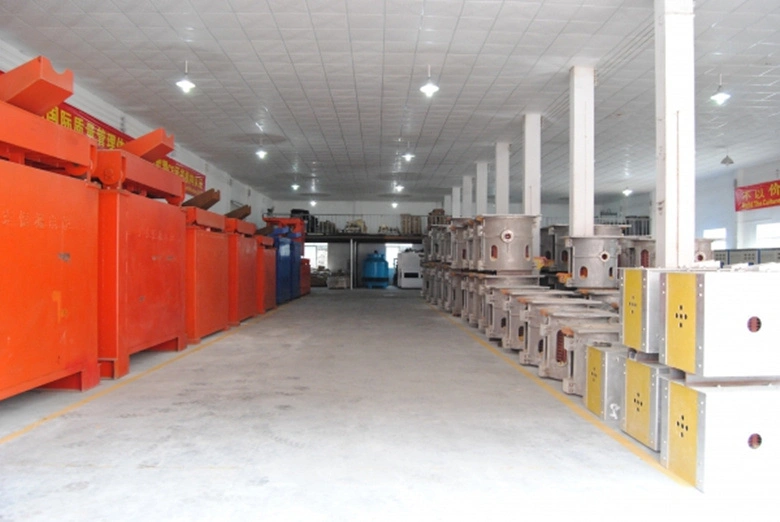 Why Choose us:
1,Low power consumption
Large current system made of pure copper as conductive medium, the whole circuit with less resistance. Electrode arm shaped as copper-clad box type, resistance and heat can be reduced efficiently. Reasonable arrange of all conductive systems to minimize the resistance of every circuit.
2,Safety & Stability
Full set of hydraulic driving system equipped with accumulator to ensure stability of facilities in the operation process. Whist, equipments can go on the motion when there any emergency accidents happen.
3,High Power Factor
Our power factory could reach over 98%, which could greatly reduce the capacitor box quantities. However we still equip enough capacitor box quantities, which mean your furnace is much much more efficient.
4.High flexibility & Maximum simplicity of operation
HMI used in electrical automation control, interface simulates the real form of furnace, which make the operation more convenient. Mixing feedstock, charging feedstock, melting, tapping all the commands can be implemented by computer.
5.More Durable
We get 6 thyristors on the left, 8 on the right, so even if one thyristor is damaged, our furnace still could be continued use. But many other factories only get only 4 on the right,the whole equipment cannot be used anymore when one thyristor is damaged.