Pure-Air Dust Collector For Fiber Laser Marking Machine Dust Collection(PA-300TS)
1. Our Customers
Universal Laser, Epilog laser, GCC laser, Trotec Laser, FOBA laser, HGTECH laser, wuhan Golden laser, Foshan HSG laser,Han's laser, Bodor laser, SenFeng laser, YueMing Laser, Redsail Laser, Jinan Jindiao laser, Glory Laser, GuangZhou CK Laser, Baisheng laser, etc.
2. Application:
PA-300TS laser fume extractor suitable for dust collection for fiber laser marking metal,stainless steel, Aluminum, etc. It's suitable for working area during 20CM*20CM fiber laser machine. It's with Low noise, bigger suck power, high filtration performance, nice quality, easily move, also with LCD display to show air flow and air pressure, air flow can be adjustable by key switch and remote controller.
3. Specification Sheet:
Equipment Data
Item
Technical Data
Remark
Fume & dust inlet
50mm / 75mm
Single fume inlets, include 1pc fume extract tube
Fresh air outlet
100mm
Shutter holes
Machine weight
18KG (N.W.)
Machine with all elements
Dimension
410*250*450mm
Machine size
Package dimension
530*510*560mm
Packed by plywood crate
Blower Technical Data
Item
Technical Data
Remark
Running period
more than 30,000h
One year guarantee
Max. air flow
300m³/h
Electronic speed control
Input capacity
200W
Low capacity
Air pressure
2500pa
High pressure
Running sound
≤50dBA
Low sound volume
Input power
110V/220V, 50Hz/60Hz
International standard
Filter Elements Data
Item
Technical Data
Remark
Pre-filter PA300-01
G4 class Primary Filter
Cotton filter pad.
F8 Filter PA300-02
F8 Class medium efficiency filter
Filter can remove 90% of all particles above1 microns
HEPA Filter PA300-03-1
H13 HEPA filter
Filter can remove 99.997% of all particles above 0.3 microns and 95% down to 0.01 micron.
Gas Filter PA300-03-2
Chemical material, life-time 6-10 months
Chemical molecular,Oxidant & Active carbon adsorb noxious gas.
Average filtration rate
≥99.7%
It will be a little fluctuation according to different materials.
4. Product Description
Pure-Air PA-300TS laser dust collector suitable for fume filtration and dust collection for fiber Laser marking metal or laser coding metal. PA-300TS Air flow is 300m3/h, blower capacity is 200W, it included below 4 layer filters(4kinds filter) to make sure the high air purficiation performance.
1) 1st layer is G3 Primary filter for remove big and heavy particles/smoke/dust(>=5Micron)
2) 2nd layer is F8 medium efficiency bag filter for remove big particles/smoke/dust(>=1Mircron).
3) 3rd & 4th layer is 1pc H13 class HEPA filter combine with 1pc activated carbon filter to remove small particles (>=0.01Mircron) and adsorb smell/toxic gas.
Pure-Air PA-300TS fume extractor with below specification to make sure high quality and good performance.It's with Low noise, bigger suck power, high filtration performancenice quality, easily move, also with LCD display to show air flow and air pressure, air flow can be adjustable by key switch and remote controller. Product function details as below:
(1) PA-300TS with single fume inlet and single freestanding arm, for one workstation;;
(2) Air flow can be adjustable during 0m3/h to 300m3/h, from 0CFM to 177CFM;
(3) Four layers filtration to ensure filtrate harmful material of the fumes completely;
(4) It has warning system to remind customer replace filters once they are block heavy.
(5) Strict welding and painting technology achieve to high tightness and corrosion resistance cabinet;
(6) Special sound- absorbing materials reduce operating noise to improve working efficiency;
(7) Taiwan brushless blower, PWM speed control, Alarm system after filter block;
(8) Integrated cabinet with trundle, more freely, small foot print, installed easily, decreasing energy consumption;
5.More Products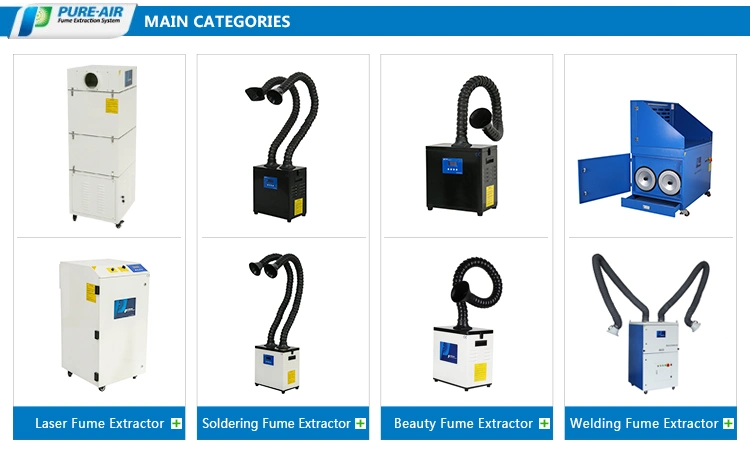 6. About Us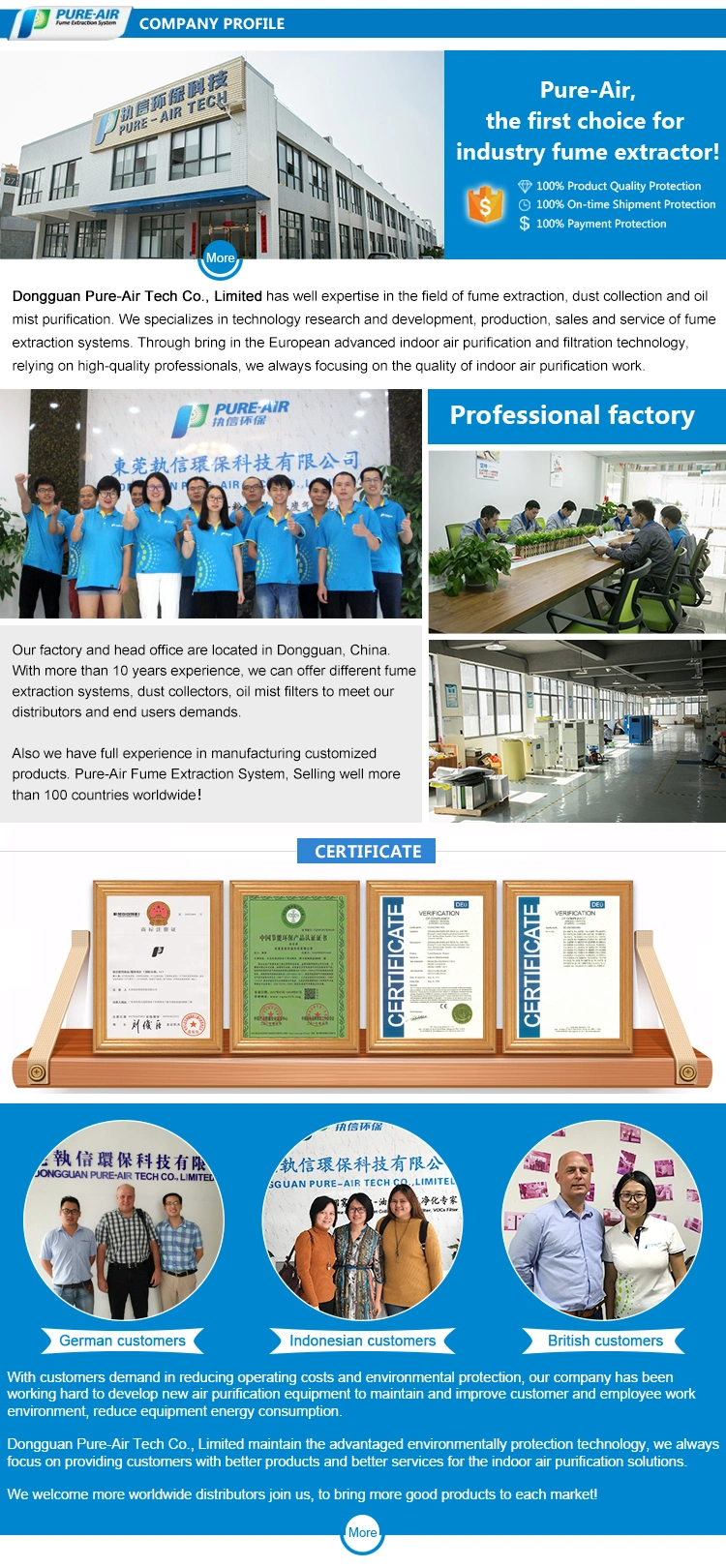 Dongguan Pure-Air Tech Co.,limited. was founded in Dongguan, China in year 2011,
Under our product brand namePURE AIR,we are a professional industrial fume extraction system manufacturer .
Pure-Air specializes in the field of industrial fume filtration, dust collection and air purification. Our expertise in technology research, product development, production, sales, and service of fume extraction systems are comparable to the European advanced air purification technology.With high-quality professionals& strict quality management system, our fume extractors have very high consumer satisfaction and big market share.

Pure-Air factory has high speed fiber laser cutting machine, CNC punching machine,bending machine and welding machine to make metal parts&cabinet, we control the product quality and provide customer high quality product with short lead time.

AllPure-Air products are CE certified, export to more than 85 countries with 15800 projects. We also have patent rights for certain models.

Pure-Air fume extraction system widely used in laser cutting,engraving;laser marking,welding;laser cleaning, electronic soldering, reflow soldering and wavesoldering,metal welding,polishing,turning, CNC machining,digital & 3D printing,food producing, beauty salon and other industry.
Below are our main products:
Laser fume extractor
Soldering fume extractor
Welding fume extractor
Nail dust collector
Oil mist filter

Pure-Air aim is to provide customer with professional air purification solutions, reduce the risk of occupational diseases, improve productivity & cost savings. Please remember us: Pure-Air, the first choice of industry fume extractor!


7.Exhibition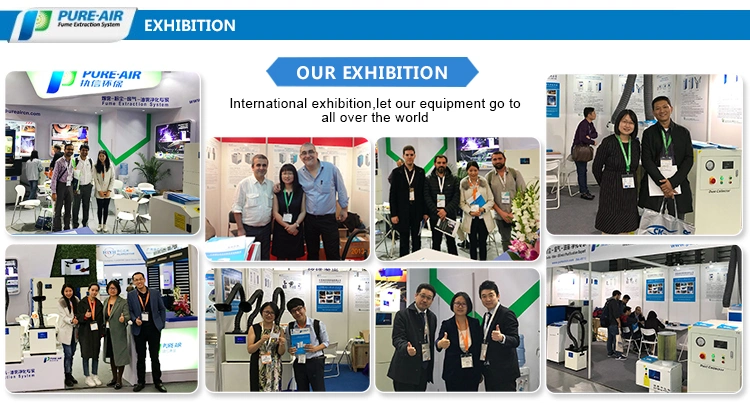 8.Why Choose Us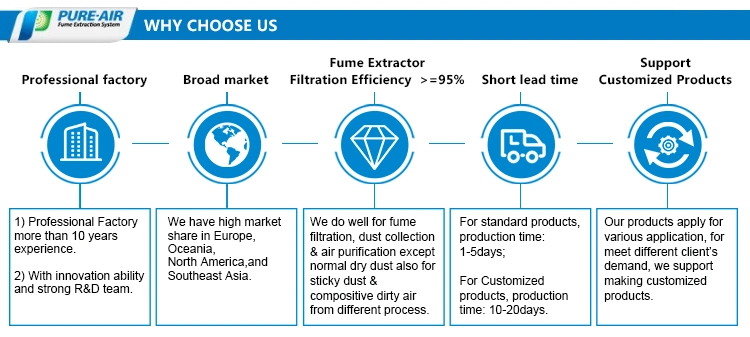 9.Packaging & Shipping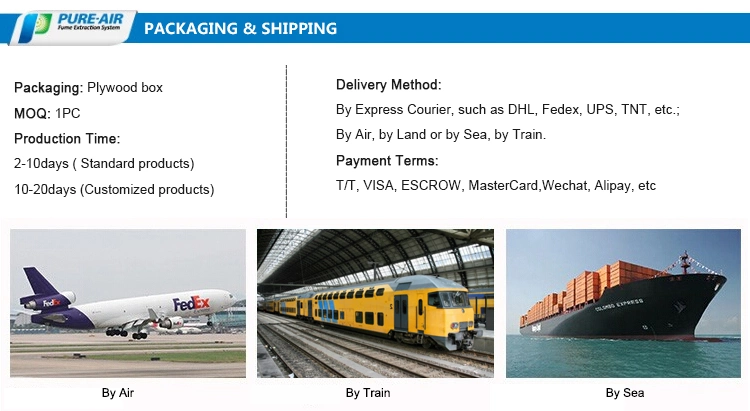 10.FAQ
Q: Are you trading company or factory?
A: We are professional factory for making fume extractor, dust collector;

Q: Do you only sell products in name of your own brand PURE-AIR?
A: Except sell in name of our brand, we can also make OEM products and show customer's LOGO;
Q: How long is your delivery time?
A: Normally it is 2-10 days for standard products, for customized products takes 10-20days;
Q: How about your package?
A: We pack goods firstly with stretch film and then pack in strong plywood box, plywood box no need do fumigation.
Q: How long is the quality guarantee of your fume extractor?
A: We can offer 1 year quality guarantee and life-long maintenance of our machine after the warranty period.

11. Contact Us